(4 intermediate revisions by 3 users not shown)
Line 1:
Line 1:
 
+

{{Cleanup}}

⚫
 
 
+

{{Stub}}

 
 
 
⚫
⚫
 
 
+
⚫
 
 
⚫
 
+
 
+

Gaderon is notably larger than Moridahn, and is usually seen as more populated. The continent, however, is more war-torn than its counterpart, especially the center region. Its most war-torn area is the battlefield of [[Garnimmar]].

 
+
 
+

The continent is mostly grassland, but has a dense vegetation in the northeastern and southeastern side. There is also a huge, mountainous side on the northwest side. Around the center of the continent, there is a medium-sized marsh known as the [[Oozing Marsh]].

 
+
 
+

{{Locations}}

 
⚫
 

[[Category:Locations]]

 

[[Category:Locations]]
---
Latest revision as of 23:36, 17 July 2017
Gaderon is one of the three known contintents on the planet of Uloff, the others being Blackfall and Moridahn. It is home to the Jaar, Humans, Gnomes, and Jin'tulu. Next to it lies Moridahn, the home of the Dryads, Orcs, Elves, and Dark Elves.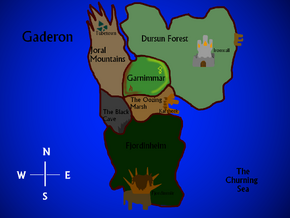 Gaderon is notably larger than Moridahn, and is usually seen as more populated. The continent, however, is more war-torn than its counterpart, especially the center region. Its most war-torn area is the battlefield of Garnimmar.
The continent is mostly grassland, but has a dense vegetation in the northeastern and southeastern side. There is also a huge, mountainous side on the northwest side. Around the center of the continent, there is a medium-sized marsh known as the Oozing Marsh.
Locations
Planets: Uloff • Pinok • Mirlanio • Zal'rom

Continents: Moridahn • Gaderon • Strog'ar

Regions:
Moridahn - Sairos Steppes •

Therisar

•

Darkglade

•

Artu Peninsula

•

Nashar

•

Saraban Wilds


Gaderon -

Dursun Forest

•

Garnimmar

•

Joral Mountains

•

The Oozing Marsh

• Fjordinheim •

Rift of Terror

•

The Black Cave


Blackfall -

Laar

•

Talonvale

•

Shadow Ridge

•

Oakfall Coast

•

The Lost Warfield



Major Cities:
Moridahn -

Dirash'j

•

Grath Citadel

•

Esari

•

Tha'nore


Gaderon - Ironwall •

Fjordinmiir

•

Kai'sheek

•

Tubetown


Blackfall -

Rooksmiir

•

Lazareith

•

Herasothia

•

Laar Hold



Other Locations: The Churning Sea •

Bloodgull

•

Realm of Madness

•

Meme Land

•

Hell's Fire

•

Red Stronghold

•

The Oblivion

•

Valhal

•

Deadwoods

•

Livingwood Growth

•

Rift

•

Temple of Arcane

•

Temple of Sorcery

•

Temple of Life

•

Temple of Death

•

Temple of Order

•

Temple of Madness

•

Skarnir's Peak

•

Cultist's Rise

•

Ivar's Outpost